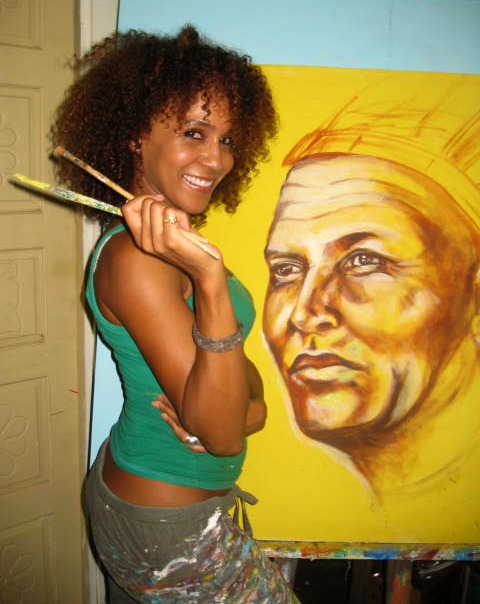 Vanessa Paulina grew up in the Caribbean, on the ABC islands: Aruba, Bonaire and Curacao. Places very dear to her. Her African/ Indian heritage is therefore quite visible in her work. She departs to The Netherlands where she studies Fashion design and Illustration. Considering the world as her playground her life becomes a journey to discover the globe basking in live experiences she later expresses in her paintings. As a painter Vanessa is best known for her Childhood and Schizophrenia series: In her 'Childhood Series' she relives her past memories by painting moments captured in time. The series will probably never have an ending, as Vanessa loves having her inner child around. Her Schizophrenia series are filled with nostalgia, here she deepens the layers and let her paintings speak about vulnerability, healing and acceptance. Vanessa just started another series called the Goddesses , inspired by the power of the feminine energy that is back on our planet.
Having exhibited around the world, her work always leaves traces of the Diaspora she comes from. She also works as a muralist and has given various international art classes in Drawing, Painting, Fashion and Soul Art.
Vanessa: I always sign my work with my initials WIP. The W stands for 2 V'S joined together as well as for;
"West Indies Productions", and this in the most Positive way;Bringing back Enlightenment. 'WIP'  is also one of my labels used in my fashion designs.
Have a good look, and enjoy my work!
I hereby express the highest of love, light and happiness to all the Children of the Universe and all living beings
Vanessa Paulina