You are hereby invited for the opening reception of THE LANGUAGE OF THE EYE, an exhibition by Vanessa Paulina, at the Westin Aruba Art Gallery on saturday June 26 2010 at 8PM.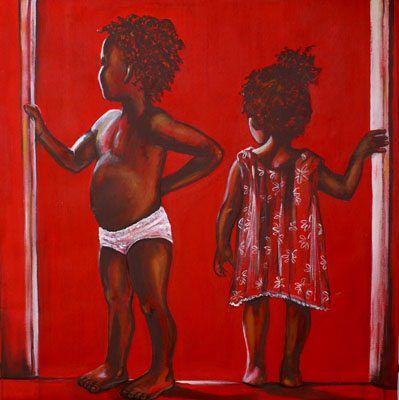 Looking out (painting on canvas bij Vanessa Paulina 2010)

Press release THE LANGUAGE OF THE EYE
Vanessa Paulina captures in her artwork faces of her culture. Painting various moments in time; a Caribbean culture which she grew up in and to which she has always been drawn. Title exhibition: The language of the eye.
An art piece painted by the Artiste; through her eyes she has managed to visualize and translate her thoughts on canvas. The eye that sees what it wishes to see, the eye that captures and tells its own story.
Figures coming to life and living it the way they please, this because 'you', the spectator decided to see what you wish to see; you make the story. Was it an air of melancholy that has taken over?
You see.
THE LANGUAGE OF THE EYE will be on display at the Westin Aruba Art Gallery from june 26 through august 26.